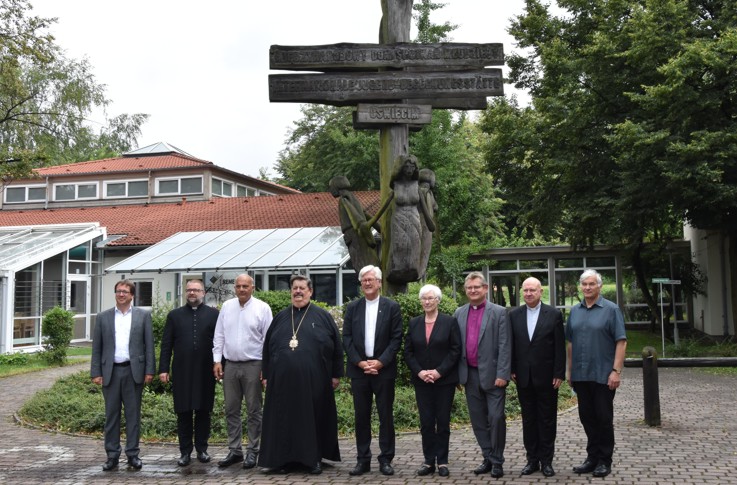 EKD Delegation in the IYMC
From August 1st-4th a delegation of the Evangelical Church in Germany (EKD) was hosted at the International Youth Meeting Centre in Oświęcim/Auschwitz. During their trip to Oświęcim, the delegation, under the leadership of Dr. Irmgard Schwaetzer, former Federal Minister/President of the Synod of the EKD and Dr. Heinrich Bedford-Strohm, Bishop/Chairman of the Council of the EKD, took part in the commemoration of the International Sinti and Roma Memorial Day in Birkenau.
Afterwards, Andrzej Kacorzyk, Vice-Director of the State Museum Auschwitz-Birkenau, and Christoph Heubner, Executive Vice-President of the International Auschwitz Committee (IAK), guided the delegation joined by Romani Rose, Chairman of the Central Council of German Sinti and Roma, and Dr. Josef Schuster, President of the Central Council of Jews in Germany, through the Auschwitz-I-Stammlager. In the inner courtyard of Block 11, on the so-called Death Wall, the delegation laid a wreath and commemorated the victims.
On August 3, the delegation visited Auschwitz II-Birkenau before returning to the IYMC in the afternoon. There they had a meeting with our director Mr. Leszek Szuster as well as Mrs. Judith Hoehne-Krawczyk and our 3 volunteers Anastasia, Marianna and Max, during which we had the chance to present the work of the House. The highlight of the meeting, however, was a zoom interview with Marian Turski, Auschwitz survivor/journalist/vice-president of the IAK, who had joined us from Warsaw.
August 4 began with a visit to the Jewish Center in Oświęcim and ended with an ecumenical meeting with the Polish partner churches represented by Dr. Grzegorz Giemza, Director of the Polish Ecumenical Council, Bishop Jerzy Samiec, Evangelical Augsburg Church in Poland, Bishop Marek Izdebski, Evangelical Reformed Church and Archbishop Abel, Orthodox Church.
Photo Ł. Lipiński, Memorial and Museum Auschwitz-Birkenau, IYMC