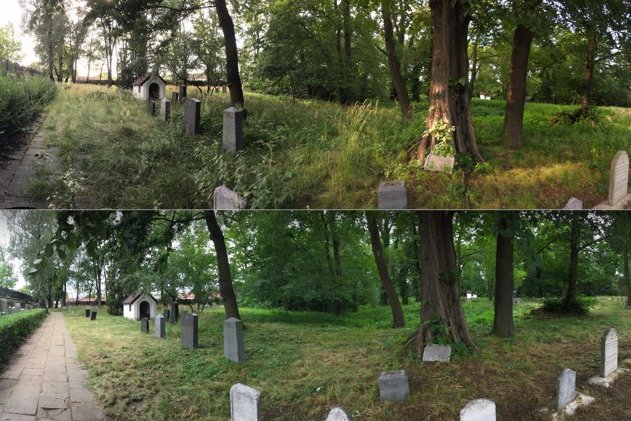 Cleaning of the Jewish cemetery in Oświęcim
On July 9th, 2020, on the initiative of Piotr Daczyński, the cleaning of the Jewish cemetery in Oświęcim took place with the participation of Girl Scouts from Patrol Pszczoła. This important undertaking was joined by volunteers from the International Youth Meeting Center, volunteers from the Jewish Center, and residents of Oświęcim. The cleaning took almost nine hours, during which weeds were removed from the main sidewalks and paths, the hedge at the entrance to the cemetery was trimmed and nettles, which in places reached almost two meters, were removed.
Since 2013, the Matzevah Foundation from the United States has been cleaning the Jewish cemetery once a year during the summer with the participation of participants of the Action Reconciliation Service For Peace Summer Camp and residents of Oświęcim. Due to the coronavirus pandemic, this year's visit by members of the Matzevah Foundation has been cancelled. This is why the continuation of activities at the Oświęcim Jewish cemetery initiated by a member of the Scouts of Europe in Oświęcim is all the more welcome. It is also noteworthy that the cemetery cleaning project was met with great enthusiasm on social media. One of the people who belongs to the facebook group "My Jewish roots are from Oświęcim" wrote: "I would like to be there with you now. Also, thank you for what you do on our behalf." In addition, many people from Oświęcim and the surrounding area have declared their willingness to join in this work in the future. Without a doubt, the cemetery requires further maintenance. The date of the next cleaning will be announced in the near future.
The Oświęcim Jewish cemetery was established in the mid-18th century and contains over 1,000 matzevah. The last burial took place in 2000.